NEWS&TOPICS
November 25, 2014

ZHP-120S : New earphone release!
New ZHP-120S model sports a diamond shaped body with flat cable
for a simple, modern look.

Comes in a variety of 5 colors including classic Black and White,
along with Pink, Lime Yellow and Light Blue to add a fresh pop of color
to your everday style.

Earphones come with a handy microphone for phonecalls on the go,
as well as a matching velcro belt for easy cord storage.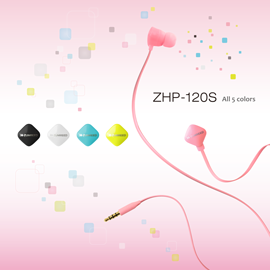 August 19, 2013

ZUMREED is now in NY Gift Show!
ZUMREED is now in NY Gift Show!

It is time to unveil "ZUMREED REBORN".

ZUMREED is coming to NY NOW, NY International Gift Show.
Special introduction of NEW ZUMREED headphones such as ZHP-300, ZHP-400, ZHP-500 and ZHP-1000.
If you are in an accessible place, come and try them in hand.

Dates and Hours:
AUG 19 @ 9am - 7pm
AUG 20 @ 9am - 6pm
AUG 21 @ 9am - 2pm

Place:
Jacob K. Javits Convention Center & Pier 94 New York, New York
Booth #7832 Level 1 (downstairs)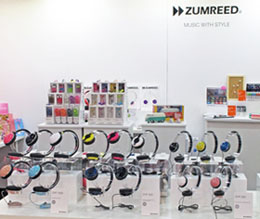 August 16, 2013

ZUMREED will be at NY NOW!
Dreams Inc. will be at International Gift Show called "NY NOW" held in NY on August 17 to 21. We are going to exhibit specials and new product introductions such as ZHP-300, ZHP-400, ZHP-500, ZHP-1000 and so on with the theme of "ZUMREED REBORN".

Name: NY NOW
Date: August 17 (Sat) ~ 21 (Wed), 2013
Hour:Sunday & Monday 9am - 7pm
Tuesday 9am - 6pm
Wednesday 9am - 2pm
Place: Jacob K. Javits Convention Center & Pier 94 New York, New York Booth #7832 Level 1 (downstairs)